LETS STATIONERY GOODS
LETS STATIONERY GOODS
さぁ文房具を楽しもう!
LETS STATIONERY GOODSは日々の暮らしを豊かにするステーショナリーグッズを展開するデザイン文具メーカーです。
LETS(レッツ)とは「Let's Enjoy The Stationery!=さぁ文房具を楽しもうよ!」の頭字語を取ったアクロニム。
モノを楽しむために「デザイン・素材・機能」に拘り抜いた高品質なプロダクト製作を行っています。
https://lets-sg.online/
https://www.instagram.com/lets_s_goods/
https://twitter.com/lets_sg
LETS STATIONERY GOODS
Let's enjoy stationery!
LETS STATIONERY GOODS is a design stationery company that offers stationery goods to enrich your daily life.
LETS stands for "Let's Enjoy The Stationery! LETS is an acronym for "Let's Enjoy The Stationery!
LETS manufactures high quality products with a focus on "design, materials, and function" for the enjoyment of things.
透明PVC×本革を組み合わせた「LETSクリアシステム手帳」<新サイズ登場>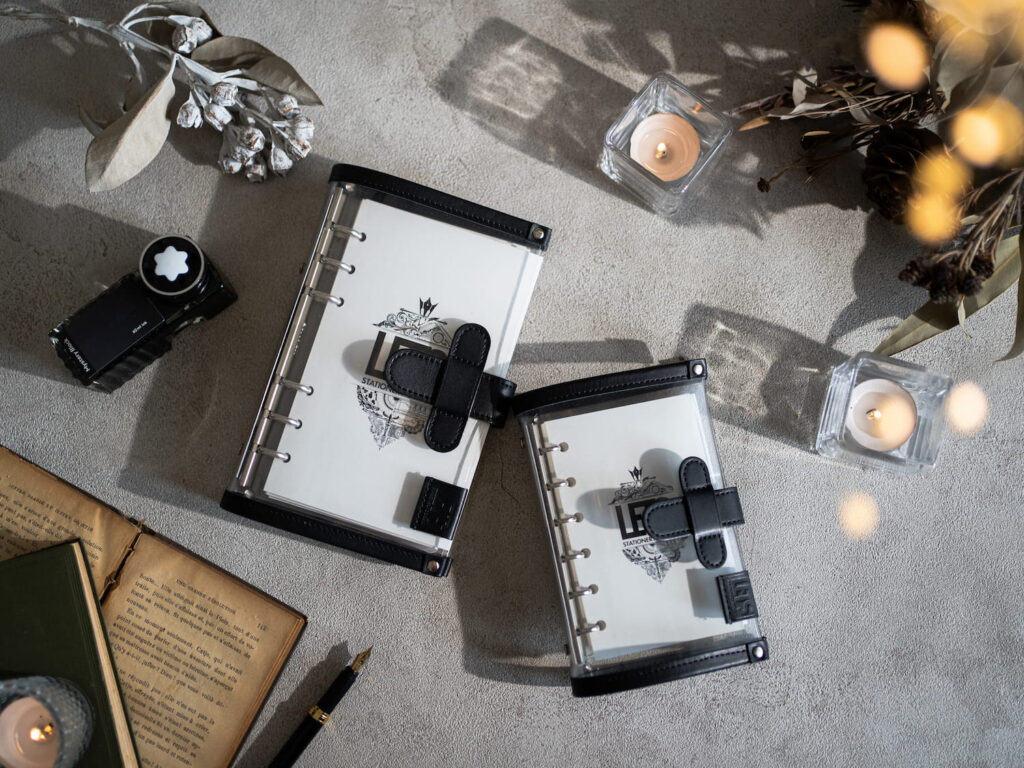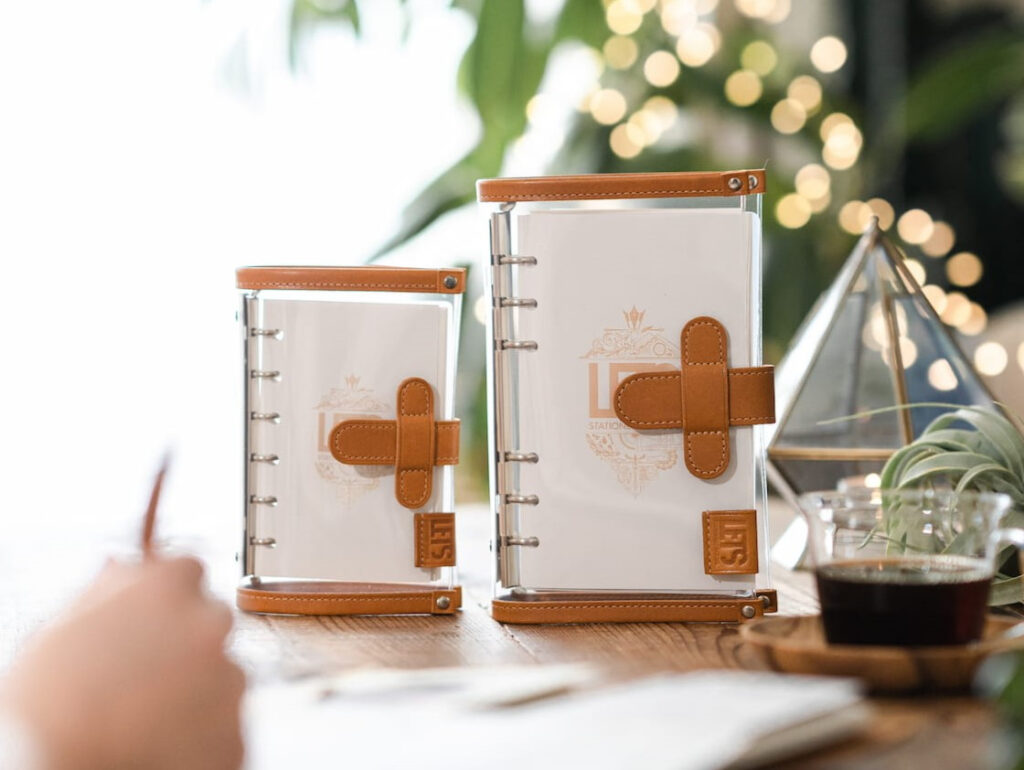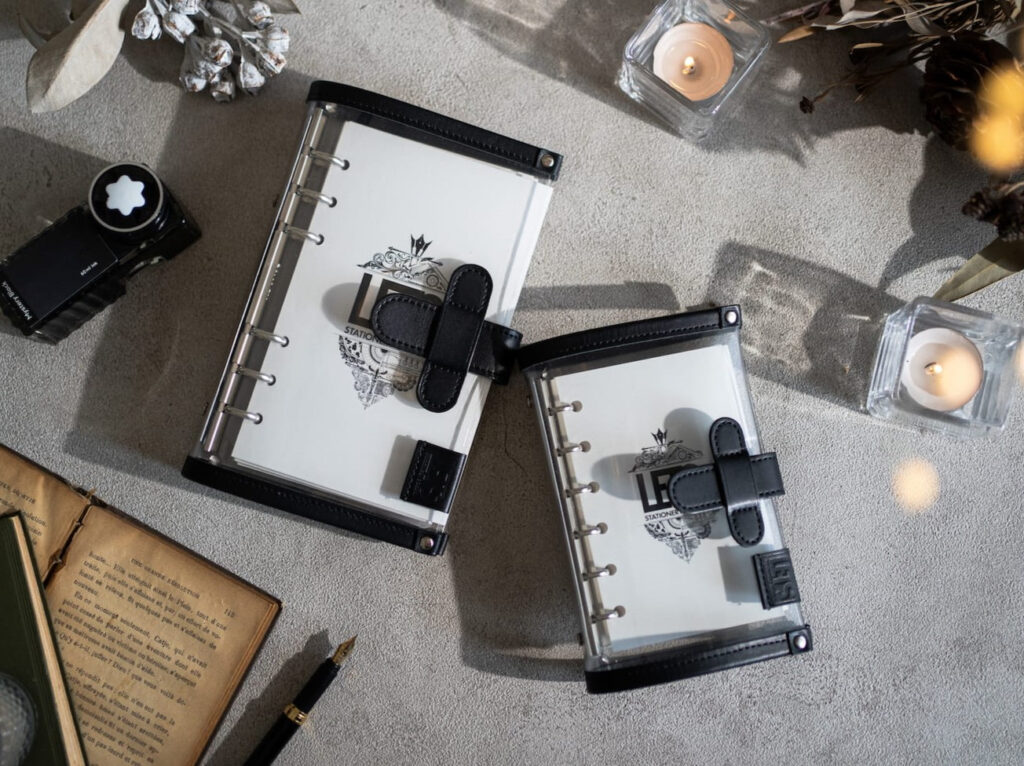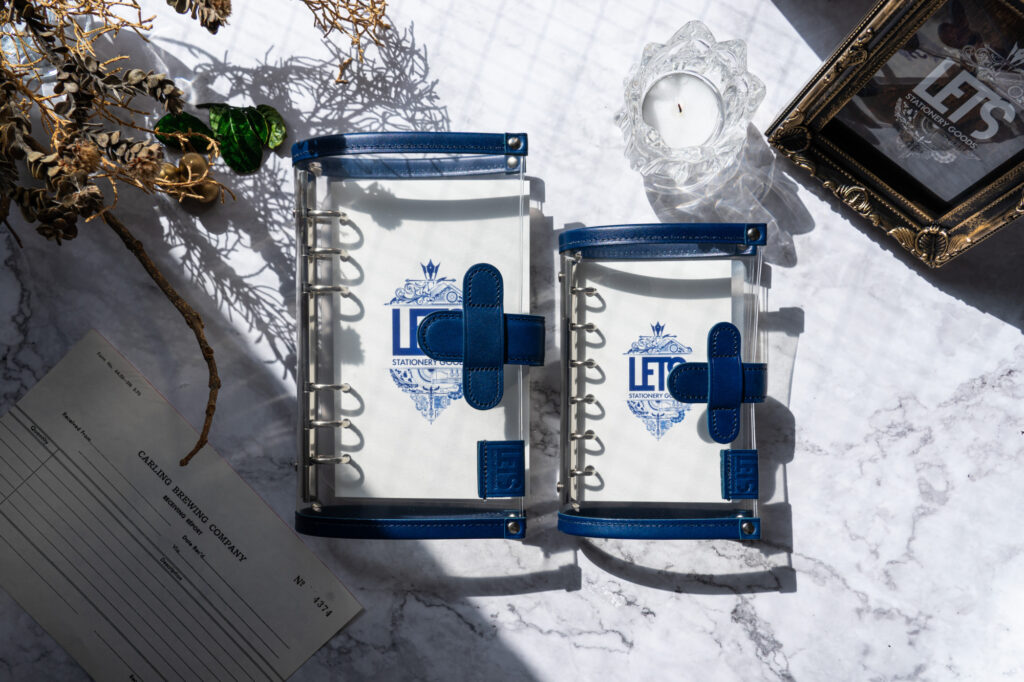 「透明PVCビニール × 本革」を組み合わせた透明感のあるシステム手帳。表紙を変えて自分らしい手帳にカスタマイズできます。
定番カラーは全部で4種類。
バイブル、mini6に加え、新サイズの[M5]を発表いたします。
「透明=中身が見える」という利点を活かし、1ページ目をご自身の好きなモノに変えることで、オリジナルのシステム手帳に見せることができます。
透明のPVCビニール素材は片面非転写1.5mm厚。
内側に非転写加工がされているため、ビニールに色移りや転写を防止し、コピー用紙や写真を挟んでも問題なくお使いいただけます。
-----------------------------
It is a personal organizer with a sense of transparency that combines "transparent PVC vinyl x genuine leather".
You can change the cover and customize it to your own notebook.
There are 4 standard colors in all.
In addition to Bible and mini6 we will announce a new size M5 at this exhibition!!
A personal organizer with transparent PVC surrounded by Japanese oil smooth leather and belt loops sewn together.
Taking advantage of the fact that*"transparency = you can see the contents"* you can change the first page to something you like and make it look like an original notebook.
The transparent PVC vinyl material is 1.5mm thick on one side and non-transferable.
Since the inside is non-transfer processed it prevents color transfer and transfer to the vinyl so you can use it without problems even if you sandwich copy paper or photos.
PVC vinyl material which is generally used for products is 1.5mm thick so it is possible to maintain a very strong and stable shape.
The binder is made by KRAUSE and has a ring diameter of 20 mm (6 holes) that corresponds to the size of the Bible. The binder opens and closes smoothly and firmly making it easy to change refills.
https://lets-sg.online/products/lets%EF%BD%B0b-natural
---
6本入りスタンプ 「ちょこっとスタンプ - CHOCOTTO STAMP」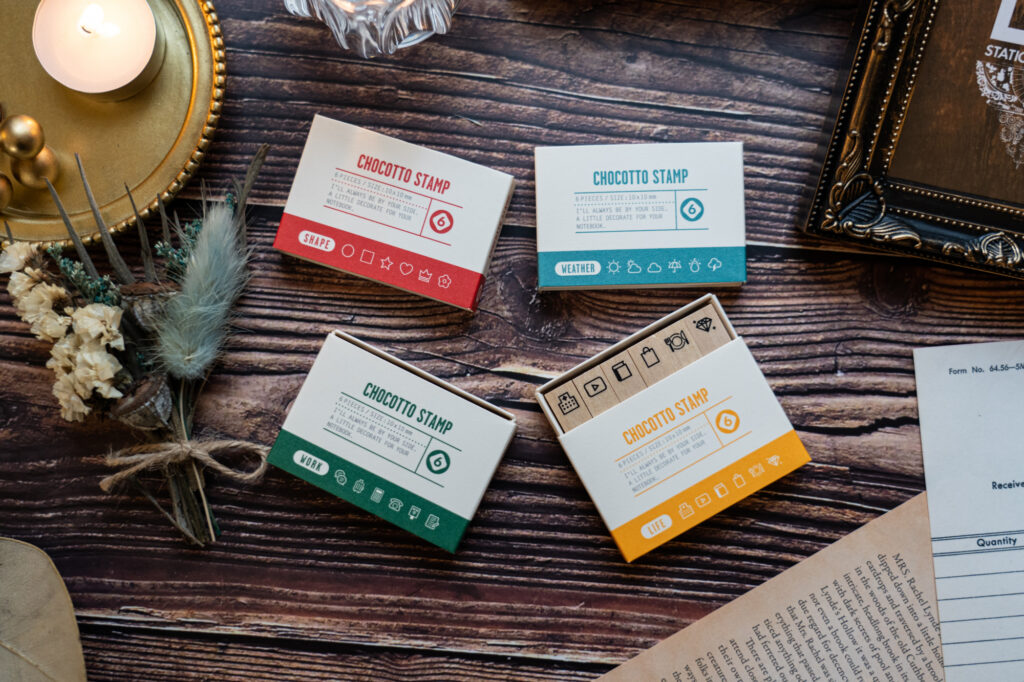 マッチ箱サイズの小さな箱に6本のスタンプを収納した「CHOCOTTO STAMP(ちょこっとスタンプ)」。
手帳にワンポイントの飾り付けや、バレットジャーナルでのKEYなどのシーンに使える柄を用意しました。
アメリカンレトロなをイメージした外箱は、一見するとスタンプが入っているとは思えない可愛いデザインに仕上げています。
使用していない時でも、デスクに置いておくだけでインテリアとなるような見た目は手帳タイムを華やかにしてくれます。
思わず集めたくなるカラフルなデザインが魅力的です。
CHOCOTTO STAMPのサイズは1cm×1cm×高さ4cmで、スタンプのゴム印は手帳でも使いやすい8mm内に収まるサイズになっています。
小さくて可愛い箱にスタンプが6本セットで入った「CHOCOTTO STAMP」。可愛いだけではなく、使いやすい機能を持ち合わせています。
-------------------------------------------
"CHOCOTTO STAMP" contains 6 stamps in a small box the size of a matchbox.
- SHAPE
- WEATHER
- LIFE
- WORK
Based on the four themes we have prepared patterns that can be used for scenes such as one-point decorations in notebooks and KEY in bullet journals.
The outer box which has a retro image has a cute design that makes it hard to believe that it has a stamp at first glance.
Even when not in use just put it on your desk and it will look like an interior decoration making your notebook time gorgeous.
A colorful design that makes you want to collect it is attractive.
https://lets-sg.online/products/chocottostamp
---
マスキングテープが何度も貼れるシステム手帳専用シール台紙「わたしのシールコーデ帳」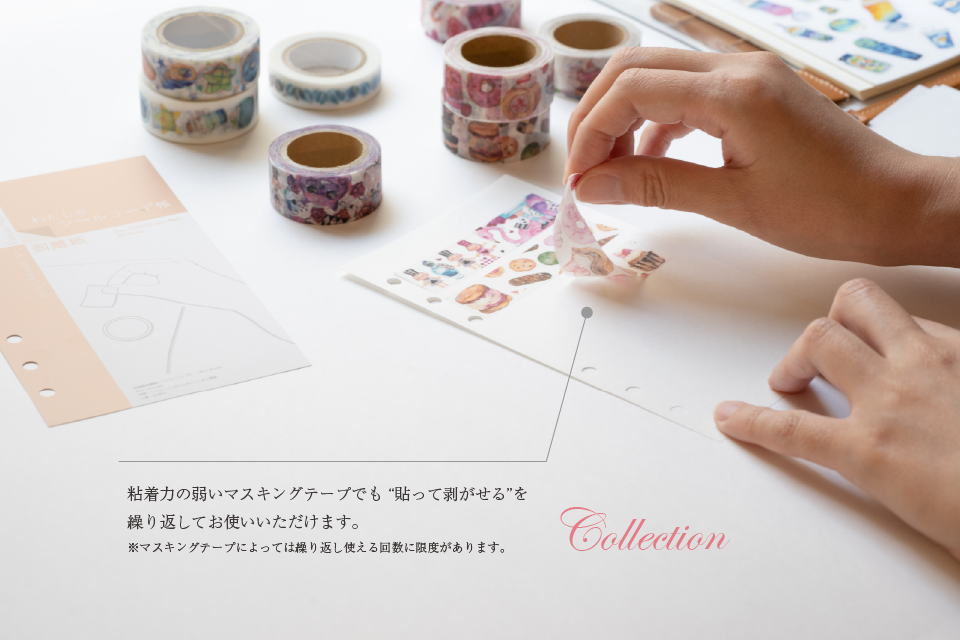 「わたしのシールコーデ帳」は、システム手帳にシールやマスキングテープをストックするためのシール台紙(剥離紙)です。
サイズは各種6穴バインダーに対応した4サイズ展開、各20枚入りとなっています。
(A5/バイブル/mini6/M5)
紙の厚みは0.12mmの薄い白上質紙を採用し、サラサラとした触り心地の良さが特徴です。シール台紙にありがちなベトベト感がなく、心地よくお使いいただけます。
また、両面対応剥離紙のため、裏側もシール台紙として40ページ分(=20枚)を楽しむことができます。
------------------------------------
"My sticker coordination book" is a release paper for personal organizer.
The size is 4 sizes corresponding to various 5-6-hole binders and each contains 20 sheets.
(A5/Bible/mini6/M5)
The thickness of the paper is 0.12mm thin white fine paper and it is characterized by its smooth texture. You can use it comfortably without the sticky feeling that is common with sticker mounts.
And it is a double-sided release paper you can enjoy 40 pages (= 20 sheets) as a sticker mount on the back side.
https://lets-sg.online/products/releasepaper
---