WRAPALLET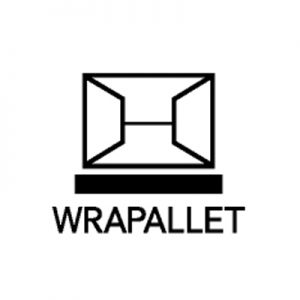 WRAPALLET is a product brand born from a paper wholesaler located in Natsumezaka, Waseda, Tokyo. Since its establishment in 1965, WRAPALLET has been handling paper materials suitable for various uses for half a century as a paper wholesaler. Based on the wealth of knowledge that only a paper wholesaler can offer, the brand is characterized by product development that makes the most of the individuality of the paper material itself. WRAPALLET products, which encapsulate our passion for paper, offer new values and possibilities for paper.
PALLET PAPER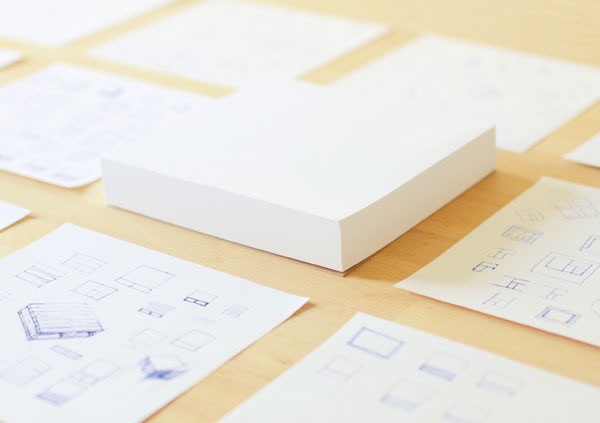 Paper blocks for paper lovers created by a paper shop
PALLET PAPER is a paper block born from the desire to make high-quality paper more convenient and easier to use. It is produced using paper originally developed by a paper shop with a history of over 50 years in Waseda, Tokyo. We have focused on ease of use not only in the quality of the paper, but also in its size and structure.
We hope PALLET PAPER will become your new daily necessities.
Unique paper quality with excellent drawing performance
DANDELADE CoC," a proprietary paper developed by our company, provides excellent drawing performance with little back-stripping or back-stripping with any writing utensil. It can be used comfortably not only for memos and letterheads, but also for sketches and illustrations.
A shape that can be used in any way.
The square shape can be used in any situation without discomfort. The paper size is 195mm x 195mm, the maximum usable size that can be obtained from the base paper.
Any number of sheets can be torn off.
The only adhesion between the sheets of paper is by the ten-glue process on the edges. Any number of sheets can be easily detached. We recommend that you not only keep it on your desk, but also divide it into smaller pieces and carry it around like a notebook.
Also for letter paper and origami
Since it can be folded in half and inserted into a No. 1-3 long envelope, it is also very useful as a letterhead. When used as origami paper, you can enjoy a larger and firmer feel than usual.
https://www.wrapallet.com/products/palletpaper/
---
PALLET TEMPLATE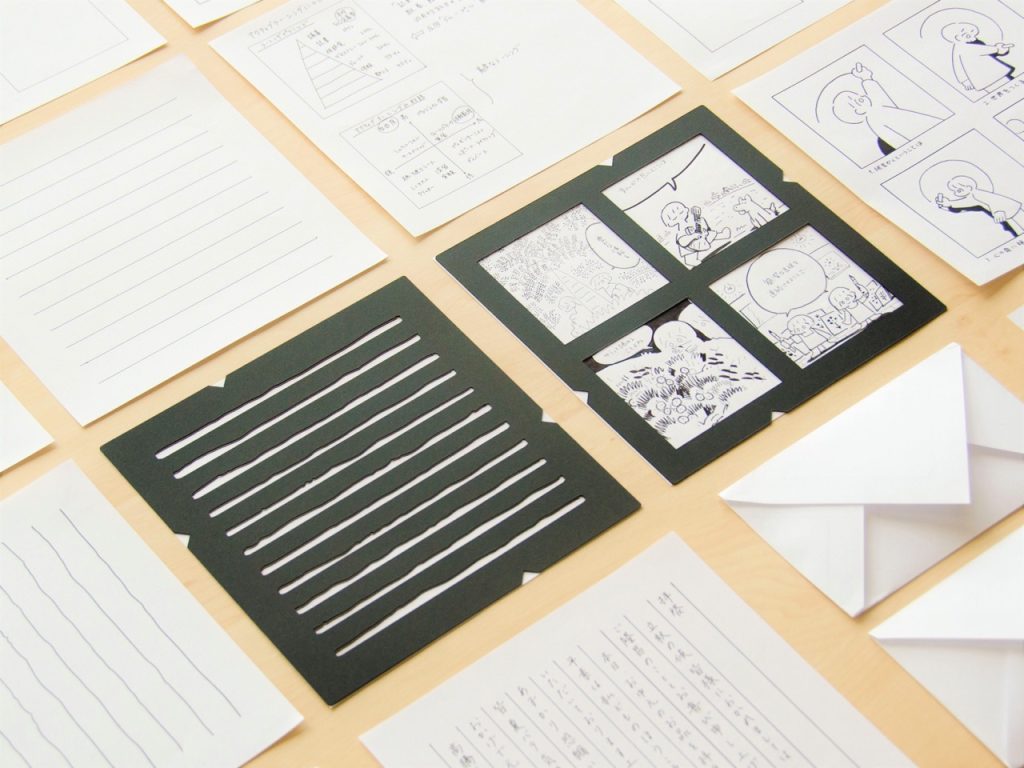 A paper template that brings out the potential of writing paper.
It allows you to quickly draw lines that are difficult to draw freehand, such as ruled lines and four-panel frames. A blank sheet of writing paper can be transformed into a sheet of letter paper or a four-frame comic strip. Bundle the sheets together to use as a notebook or idea book.
The size is perfect for PALLET PAPER (sold separately), which can be used in combination for even more convenient use, and the template can be folded into an envelope shape using the cutouts on the template for even more versatility.
Find your own unique way of using paper.
Templates with beautiful ruled lines
The ruled line template has a structure that allows two patterns to be drawn: handwritten style lines and straight lines. We have focused on a ruled line width that can be written in both vertical and horizontal writing styles in a well-balanced manner.
Easy-to-use border lines
The simple shape of the four squares allows for even and quick writing. Not only is it easy to draw illustrations, but comments and manga lines can be written in the margins between the squares. It can be used for drawing cartoons, as a notebook, or for generating ideas, regardless of the occasion.
The Secret of the Incision
Fold PALLET PAPER along the cutout to use it like an envelope. It can also be used to wrap a small note or a gratuity.
https://www.wrapallet.com/products/pallet-template/
---
PALLET PAPER GARAGE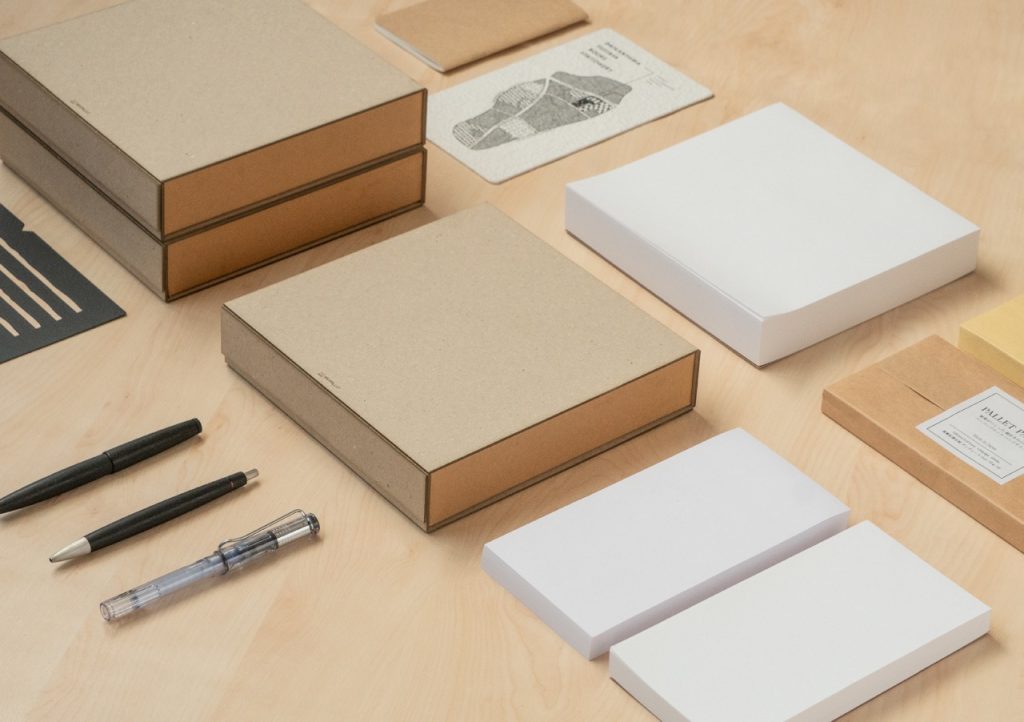 For high quality paper, we offer special boxes.
PALLET PAPER GARAGE is a stationery box that fits pallet paper perfectly. The pleasant "slap" you feel every time you open and close the box makes using pallet paper and stationery feel special. We aimed to create a simple and comfortable presence that only paper materials can have, so that the box fits in with any setting, whether on a tabletop, shelf, or in a drawer.
Pallet paper is even easier to use
The inner box, which can hold pallet paper perfectly, has a slit for easy removal of the paper. It also has excellent humidity control properties, maintaining an optimal storage environment for the paper.
Double Lid to Prevent Contents from Popping Out
The double lids make it difficult for the contents to pop out. The double-lid structure makes it easy to insert the pallet paper into a bookshelf or carry it in a bag, further expanding the ways in which the pallet paper can be used.
Comfortable opening and closing structure
The magnetic closure structure makes a pleasant clattering sound. We have focused on the feel of opening and closing the box in order to create a stationery box that you will want to use every day.
Stationery storage and paper storage box
We recommend this box for storing small stationery items that are difficult to organize, such as pen notes, envelopes, erasers, stamps, etc. It is also recommended as a storage box for paper items such as DMs, invitations, tickets, etc. that are full of memories.